Register for the January 2016 Healthy Masculinity Training Institute in Washington, DC.
Why should you care about healthy masculinity? Because men who choose it choose to be strong without being violent. It's a life-changer that benefits women and men.
Through three days of discussions about theory, interactive group exercises, role-playing, and multi-media presentations, the training institute presents participants with a framework to positively construct masculinity and to motivate men's engagement in challenging the attitudes and behaviors that support violence against girls and women. This training is ideal for staff from universities, middle and high schools, law enforcement agencies, the US armed forces, statewide and local coalitions, service agencies, and government agencies.
The institute will provide you with the skills to promote healthy masculinity in your life, your organization, and your community and for you to organize a Healthy Masculinity Town Hall or Campus Conversation.
Become part of the Healthy Masculinity movement this winter!
The Washington, D.C. Healthy Masculinity Training Institute
January 6-8, 2016
8:30 AM - 5:00 PM each day
Thurgood Marshall Building
1816 12th Street NW
Washington, DC 20009
COST: $600 per participant
West Virginia University (WVU) hosted a healthy masculinity workshop for students that included the "real man v. strong man" exercise. Wes Thomas led the discussion stating healthy masculinity is "recognizing both the power you have as a man and a human being to make a positive difference". WVU is a part of the OVW Athletics Project.
Learn more about the workshop here.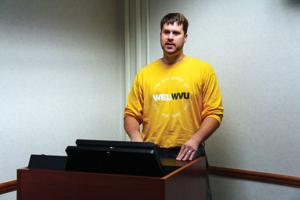 Askar Salikhov/THE DAILY ATHENAEUM
ASK ND has been featured in Adams County Record. Read the article here.
Page 15 of 23