Daniel Rappaport, veteran MOST Club member at University of Maryland and now Victim Services Program Specialist at DC Office of Victim Services (OVS), has been published in the Journal of Interpersonal Violence. Read the study here, How Do Men Construct and Explain Men's Violence?
Daniel Rappaport, a proud Terp, graduated from the University of Maryland in 2008, earning a degree in Psychology and a certificate in Women's Studies. During his time at UMD, he held roles as a sexual violence peer educator, victim advocate, and member of UMD's first Men of Strength Club. In 2010, Daniel earned a Master's degree from Boston College in Mental Health Counseling. During his time at BC, Daniel focused his studies on gender and violence, as well as trauma and addiction. In 2010, Daniel was hired to develop sexual assault prevention and response efforts at American University in Washington, DC. Over the next five years, Daniel supervised the development of many critical changes at the University, including the creation of a peer education team, a Men of Strength club, campus-wide bystander invention, significant updates campus policy and protocol in response to sexual and dating violence, and training for all incoming students. Daniel also developed American University's first victim advocate role, providing confidential support services to any student or staff impacted by sexual violence, dating violence, or stalking. In 2015, Daniel was hired at the DC government's Office of Victim Services and Justice Grants in the Executive Office of the Mayor. He currently acts as the Victim Services Program Specialist, where he provides program management and support of grant programs, with a focus on engaging universities and military installations in the District of Columbia.
Register for the January 2016 Healthy Masculinity Training Institute in Washington, DC.
Why should you care about healthy masculinity? Because men who choose it choose to be strong without being violent. It's a life-changer that benefits women and men.
Through three days of discussions about theory, interactive group exercises, role-playing, and multi-media presentations, the training institute presents participants with a framework to positively construct masculinity and to motivate men's engagement in challenging the attitudes and behaviors that support violence against girls and women. This training is ideal for staff from universities, middle and high schools, law enforcement agencies, the US armed forces, statewide and local coalitions, service agencies, and government agencies.
The institute will provide you with the skills to promote healthy masculinity in your life, your organization, and your community and for you to organize a Healthy Masculinity Town Hall or Campus Conversation.
Become part of the Healthy Masculinity movement this winter!
The Washington, D.C. Healthy Masculinity Training Institute
January 6-8, 2016
8:30 AM - 5:00 PM each day
Thurgood Marshall Building
1816 12th Street NW
Washington, DC 20009
COST: $600 per participant
West Virginia University (WVU) hosted a healthy masculinity workshop for students that included the "real man v. strong man" exercise. Wes Thomas led the discussion stating healthy masculinity is "recognizing both the power you have as a man and a human being to make a positive difference". WVU is a part of the OVW Athletics Project.
Learn more about the workshop here.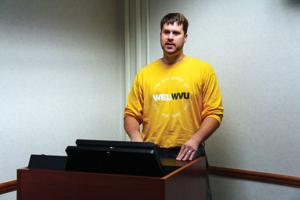 Askar Salikhov/THE DAILY ATHENAEUM
Page 15 of 23