West Virginia University (WVU) hosted a healthy masculinity workshop for students that included the "real man v. strong man" exercise. Wes Thomas led the discussion stating healthy masculinity is "recognizing both the power you have as a man and a human being to make a positive difference". WVU is a part of the OVW Athletics Project.
Learn more about the workshop here.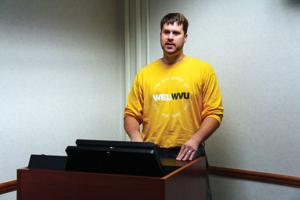 Askar Salikhov/THE DAILY ATHENAEUM
ASK ND has been featured in Adams County Record. Read the article here.
Today, Men Can Stop Rape celebrates #purplethursday to honor victims and support survivors & thrivers of domestic violence! #DVAM2015
Page 16 of 23